Born in Boston on February 25, 1942, Cynthia Voigt was the second of five children. From the time she started high school, she wanted to be an author. She has successfully reached that goal with the publication of nearly 50 juvenile and young adult books. She has also written a couple of dog stories for younger readers. Angus and Sadie appeals to 3rd-5th graders and The Rosie Stories for K-2nd.
Cynthia in high school.
Mrs. Voigt has won several awards for her writing, including the Newbery medal for Dicey's Song and a Newbery Honor medal for A Solitary Blue.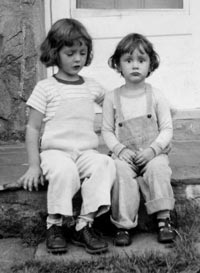 Cynthia is on the right